01.05.20 KL. 03:1
Den første plateutgivelsen Bob Dylan var med på, var – ved en tilfeldighet – Harry Belafontes Midnight Special. Historien om møtet mellom disse to bautaene i populærkulturen, er ikke bare historien om første gang Dylan ble utgitt på plate, det er også historien om hvor lett det er oppfatte en og samme situasjon forskjellig, om at man kan gå og tro man er mislikt i flere tiår uten at det stemmer.
I 1962 hadde Belafonte blitt stor stjerne med sine versjoner av gamle calypso-slagere. Men hans repertoar var bredere enn som så, og nå ville han gi ut en plate i mer blues-folk-stil. Planen var at Sonny Terry skulle spille munnspill på tittelsporet, Midnight Special. Han var det åpenbare valget, den beste på munnspill i sjangeren, forteller Belafonte i selvbiografien sin. Så ble Sonny syk. Heldigvis fikk gitaristen, Millard Thomas, tak i en unggutt som kunne steppe inn, «a skinny scraggly-haired kid no more than twenty years old».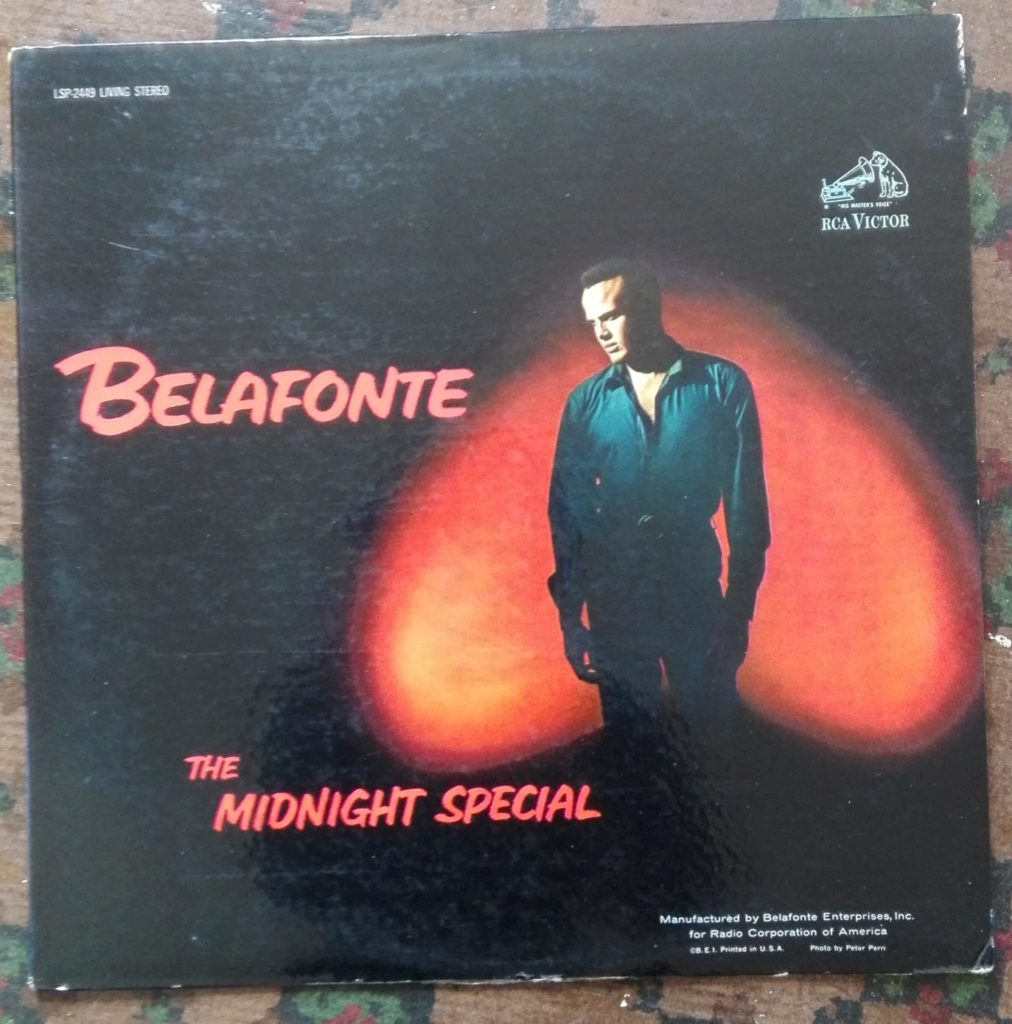 Denne gutten var selvfølgelig Bob Dylan. Han kom inn i studioet med en brun papirpose i hånda og tømte innholdet – fire-fem munnspill – utover bordet. Så ba han om å få høre dem spille gjennom låten en gang, hvilket han fikk. Han nikket, valgte et av munnspillene og ba om et glass vann. Da de kom til hans parti, dyppet han munnspillet i vannglasset, ristet det og begynte å spille, «began to blow a very funky harp», som Belafonte beskriver det. De hørte gjennom opptaket, nikket fornøyd. Dette er akkurat det vi er ute etter, fortalte de unggutten, som ikke sa stort. Han forlot lokalet straks, og på veien ut hev han munnspillet i søpla.
Belafonte tenkte i alle år at Dylan måtte ha vært lite imponert, over ham, over låten, over innspillingen. Så lite imponert at han faktisk kastet munnspillet på veien ut! Dette inntrykket ble senere forsterket da han så Dylan opptre sammen med Joan Baez. Hun hadde vært avbildet som en av kildene i en artikkel der flere uttalte seg negativt om Belafonte. For Belafonte fikk, i likhet med Dylan selv, pepper fra det puristiske folkmiljøet i USA. Begge utfordret de, på hver sin måte, de trange grensene for hva som var tillatt i sjangeren.
Belafonte gikk altså gjennom livet i den tro at Dylan oppfattet ham som en dust, og at han ikke hadde syntes stort om innspillingen av Midnight Special. Det var ikke før i 2004, da Dylans selvbiografi Chronicles volume one kom ut, at Belafonte fikk korrigert dette inntrykket. Det viste seg nemlig at Dylan var en stor beundrer av Belafonte. Videre viste det seg at han på den tiden kjøpte de billigste munnspillene på markedet, og at når disse hadde blitt dyppet i vann og blåst hardt i, var de ikke brukbare mer.
Dylan bruker et par sider i boka si på å rose Belafonte opp i skyene. Å lese denne omtalen, i Dylans stilsikre prosa, gir meg gåsehud hver gang. Jeg kan bare forestille meg hvordan Belafonte må ha opplevd disse ordene.
Lenge trodde man at dette var første gang Dylan var i et innspillingsstudio som profesjonell musiker, men i 2001 – etter et funn i arkivene til plateselskapet RCA – kom det for en dag at Midnight Special ikke ble spilt inn før i februar 1962. Før det hadde han både spilt for folkmusikeren Carolyn Hester i september 1961 og rukket å spille inn sitt eget debutalbum i november samme år. Likevel kom Midnight Special ut først, så det var altså den første utgivelsen, om enn ikke den første innspillingen.
Da jeg nylig anskaffet meg et eksemplar av den norske boka Bob Dylan leksikon, var selvfølgelig B det første jeg slo opp på. Jeg var spent på hva forfatterne hadde å si om Belafonte. Til min glede har han fått et oppslag på en hel side. De avslutter med et sitat fra Chronicles (i norsk oversettelse) om innspillingen av Midnight Special: «Merkelig nok kom dette til å stå for meg som den eneste minneverdige studiojobben min på årevis».
Det er ganske lang vei mellom dette og det inntrykket Belafonte sto igjen med da en ung, sjenert musiker slengte munnspillet i søpla og labbet ut av studioet nærmest uten et ord.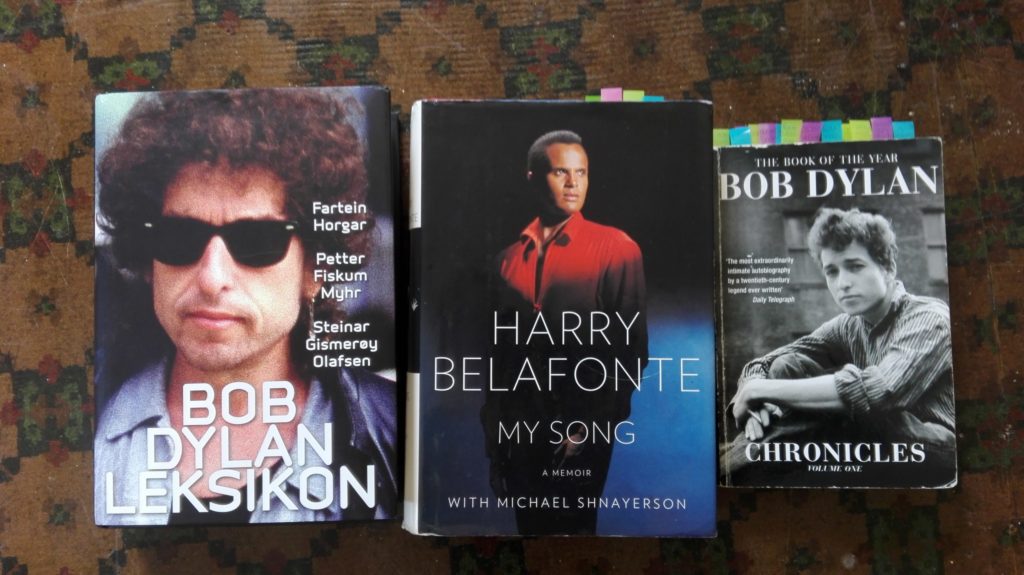 Litteratur:
Harry Belafonte: My Song. A memoir. Knopf, 2011
Bob Dylan: Chronicles volume one. Simon & Schuster UK Ltd, 2004
Fartein Horgar, Petter Fiskum Myhr, Steinar Gismerøy Olafsen: Bob Dylan leksikon, Forlaget Historie & Kultur AS, 2012

De to førstnevnte bøkene er tidligere omtalt i bloggen.
Deprecated: ltrim(): Passing null to parameter #1 ($string) of type string is deprecated in /customers/5/c/3/rotrock.no/httpd.www/wp-includes/wp-db.php on line 3030