30.12.18 KL. 03:1
Shake Hands with the Devil er historien til Roméo Dallaire, mannen som ledet UNAMIR (United Nations Assistance Mission for Rwanda) i 1994. Til tross for flere varsler om hva som var i gjære, ble ikke folkemordet avverget og 800 000 mennesker ble brutalt drept i løpet av tre måneder. UNAMIR var en fiasko. Hvordan kunne dette skje?
I boka forteller Dallaire om sin kamp for å overbevise FN om hva som var i ferd med å skje og om sin fortvilelse da han ikke ble hørt. Det er også laget to filmer basert på boka. Det ene er en spillefilm, det andre er en dokumentar som tar utgangsunkt i Dallaires retur til Rwanda ti år etter at han ble sendt hjem. Begge filmene har samme tittel som boka.
Både hos Dallaire og andre kilder får belgiske kolonimakter i stor grad skylda for de etniske konfliktene mellom hutuer og tutsier. Kolonimaktene vektla etnisk tilhørighet ved å innføre ID-kort der etnisitet måtte oppgis. Ikke alle hadde en klar formening om sin etnisitet, og i disse tilfellene målte belgierne neser og panner for å få kategorisert befolkningen. Belgierne favorisere tutsiene, som var i mindretall, systematisk. Disse ble sett på som overlegne hutuene. Tutsiene fikk flere kyr og de fikk sitte i ledende posisjoner. Flere kilder mener dette var en bevisst politikk for å så splid slik at det skulle bli lettere å herske.
Dallaire og UNAMIR kom til Rwanda i oktober 1993. UNAMIR var en fredsbevarende styrke som skulle se til at en nylig undertegnet fredavtale mellom den hutu-dominerte regjeringen i Rwanda og den tutsi-dominerte hæren RPF (Rwandas patriotiske front) ble fulgt. Gradvis gikk det opp for Dallaire at fredsavtalen ikke ville bli overholdt og at grusomme handlinger var under planlegging. Dallaire fikk detaljert kjennskap til fire våpenlagre i Kigali, med våpen som skulle brukes til masseutryddelse av mennesker. Han planla en aksjon for å raide disse lagrene, men FNs hovedkvarter forbød ham å gjennomføre aksjonen.
UNAMIR hadde ikke lov til å gripe inn. De så hva som skjedde, hadde flere planer for å avverge drap, men hadde ikke mandat til å gjøre noe. I tillegg hadde de alt for små styrker og knapt med ressurser. FNs hovedkvarter i New York minte dem kontinuerlig på at de ikke måtte ta parti i dette som verden omtalte som en borgerkrig. Dallaire så stadig flere tegn til at det ikke var noen borgerkrig, men derimot et ekstremt godt planlagt folkemord der tutsier og moderate hutuer ble sytematisk drept. Først ble moderate politikerne tatt av dage, deretter folk flest.
Til tross for at Dallaire stadig var på telefonen med hovedkvarteret i New York og innstendig forsøkte å få dem til å forstå hva som var i ferd med å skje, at de kunne hindre det bare de fikk flere ressurser, flere folk, utvidet mandat, var det det motsatte som skjedde. De belgiske styrkene trakk seg ut mens folk ble drept på alle kanter. «Jeg var rasende, tårene strømmet. Det var i praksis de samme drittsekkene som hadde startet det hele som nå stakk av», sa Dallaire ti år senere.
Samtidig som Dallaire har møtt skarp kritikk, er det mange ser på ham som en stor helt som trosset alt og gjorde alt i sin makt for å redde så mange som mulig. Selv har han ikke greid å leve med at de mislyktes i å hindre den ufattelige tragedien. Det var så mye de kunne gjort. Folkemordet kunne vært forhindret. Hvis bare. Hvis bare.
I sin tale i Rwanda på tiårsdagen for folkemordet sa han: Tusener på tusener av soldater ble sendt til Jugoslavia, men her hadde jeg knappe 450 menn. I Jugoslavia dreide det seg om hvite mennesker. Her var det bare afrikanere og de samme gamle etniske konfliktene. Vi sviktet det rwandiske folk i 1994.
I dokumentarfilmen ser vi også et klipp fra Bill Clintons besøk i Kigali i 1998. Han sier «Om jeg bare hadde visst hva som holdt på å skje her». Men hvordan kan FN og den vestlige verden si de ikke visste når de hadde en styrke i Kigali, når lederen av disse styrkene kontinuerlig fortalte dem hva som skjedde, og at de kunne hindre det. Hvis bare.
At mennesker kan få seg til å gjøre så grusomme ting mot hverandre er vanskelig å forstå for de fleste av oss. Mennesket, som bærer så mye godt i seg, som har så stor kapastitet til fantastiske ting, bærer også i seg muligheten for ufattelig ondskap.
En viktig del av planleggingen av folkemordet var propagandaen. Radioen kringkastet kontinuerlig hat mot tutsier. En hel menneskegruppe ble umenneskeliggjort. Omtalt som dyr, som kakerlakker. Igjen og igjen. Slik har også opptakten til andre folkemord i historien vært. Språk er makt. Hvordan vi omtaler hverandre er av avgjørende betydning. Derfor er «oss og dem»-retorikk farlig. Vi må aldri tillate at menneskegrupper settes opp mot hverandre. Vi må aldri tillate at en gruppe framstilles som bedre enn en annen.
Vi er alle mennesker.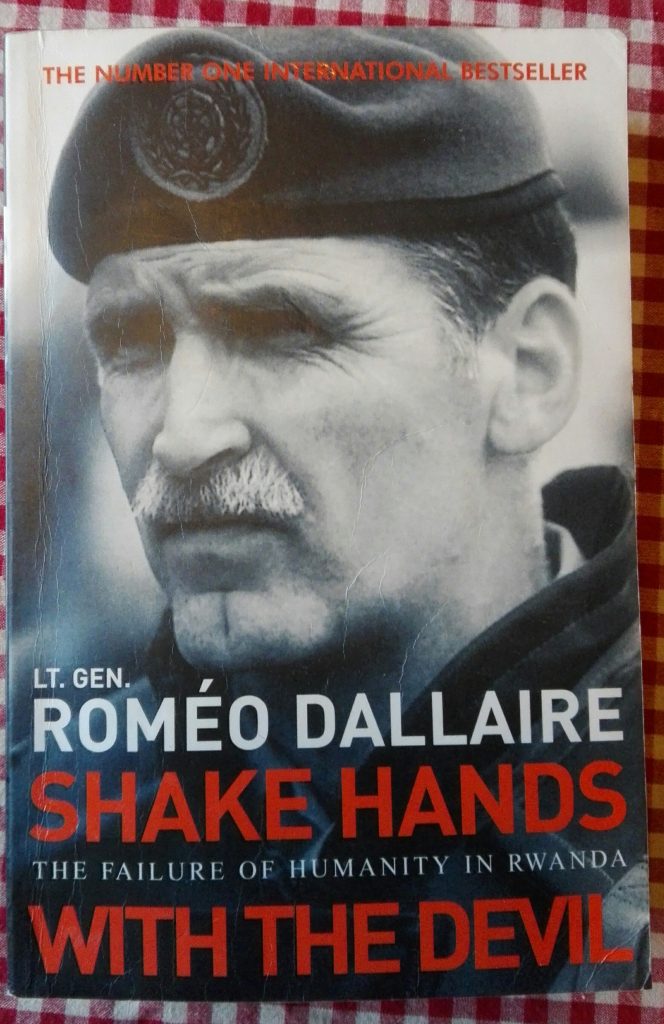 Deprecated: ltrim(): Passing null to parameter #1 ($string) of type string is deprecated in /customers/5/c/3/rotrock.no/httpd.www/wp-includes/wp-db.php on line 3030