23.02.19 KL. 10:1
Med et ønske om å redusere mengden jordisk gods, har jeg gått kritisk gjennom alt jeg eier og kvittet meg med det jeg har ansett som overflødig. Til slutt gjensto bare én kategori. Den vanskeligste. Den som tar opp større plass enn noe annet: platesamlinga.
Jeg gikk systematisk til verks. Alt skulle høres gjennom. I alfabetisk rekkefølge (som i mitt tilfelle vil si fra 126 til Zappa). Jeg visste at det kom til å ta tid, jeg skjønte at det ville bli vanskelig. I skrivende stund er jeg kommet til R.E.M., og det er snart tre år siden jeg startet. I mellomtida har jeg også tatt fatt på samme prosess med CD-ene, der jeg er kommet til Sonic Youth, og singlene, der jeg nylig har småjukset meg gjennom utallige Michael Jackson-singler og er kommet fram til Joan Jett med vettet i behold. Såvidt.

Det beste med å høre gjennom hele samlinga er at man oppdager skjulte skatter. Med så mange plater, er det fort gjort å glemme hva man har, eller å glemme hvor bra det er. Heller enn å bla i platene til selgerne på platemesser for å oppdage noe nytt der, skulle jeg bla i mine egne plater og gjøre langt billigere oppdagelser der. Hvor ofte har man ikke kjøpt en litt for stor bunke plater, hørt gjennom dem én gang og så har de fursvunnet inn i samlinga? Der har de blitt stående musestille, uberørt av menneskehender, stikk i strid med intensjonen.
De druknede skivers redning, her kommer jeg!
Tanken var at jeg skulle høre gjennom absolutt alt, og hvis det var så ille at jeg ikke orket å høre det, da kunne jeg vel bare kvitte meg med det. Enkelt og greit. Eller?
Slettes ikke. Det var ingenting ved dette som var enkelt og greit. Tvert imot var det svært mange kompliserende faktorer som blandet seg inn. Dagsformen, for eksempel. Den musikken som en dag flyter forbi nesten ubemerket kan neste dag gi meg en sterk opplevelse. Hva om jeg luket ut ei Clash-plate bare fordi jeg ikke var i Clash-humør den dagen?
Men også mer overordnede spørsmål har dukket opp og gjort seg vanskelige: Hva vil jeg med platesamlinga mi? Vil jeg at den skal representere musikkhistorien? Vil jeg at den skal representere livet mitt?
Jeg prøvde meg med en pragmatisk tilnærming, å bare ta vare på musikk jeg vet jeg kommer til å høre på igjen. Det låter fornuftig, gjør det ikke? Men hva med platene jeg har beholdt fordi de er en del av min historie, steg på veien mot at jeg er blitt den jeg er? Det finnes skiver jeg har elsket, hørt i fillebiter, men som jeg nå blir småkvalm av å høre på. Like fullt er de en del av meg. Hva om jeg angrer meg?
Sikkert er det i hvert fall at rasjonalitet ikke duger som sorteringsmekanisme. Platesamling handler ikke om det. Platesamling handler om det motsatte. Det handler om følelser, om minner, om opplevelser, stort og smått man har strevd seg gjennom. Alt det dypt personlige man har øst ut innimellom tonene, riffene, stemmene. Det er tross alt musikk – kunst – vi snakker om. Musikk har aldri tilhørt rasjonalitetens sfære.
Det gjennomført pragmatiske valget ville vært å selge alle platene og ta i bruk strømmetjenester og få god plass i stua på kjøpet. Det er selvfølgelig ikke aktuelt. For meg ligger det stor glede i å omgi meg med disse store objektene som fyller opp stua mi med trivsel. Det er ei sånn stue jeg vil bo i. Det er sånn jeg lever godt.
Jeg må stå aldeles alene i disse vanskelige valgene. Hvilke plater jeg skal beholde er til syvende og sist et spørsmål om hvem jeg er, hvem jeg vil være. Det handler om identitet. Er jeg en platesamler eller en pragmatiker? Jeg greier ikke helt å bli enig med meg selv. Det gjør vondt å luke i identiteten sin. Jeg luker. Det lugger.
Per i dag har jeg luket ut mellom 100 og 200 LP-plater, og litt færre singler og CD-er. Veien har vært både berikende og frustrerende.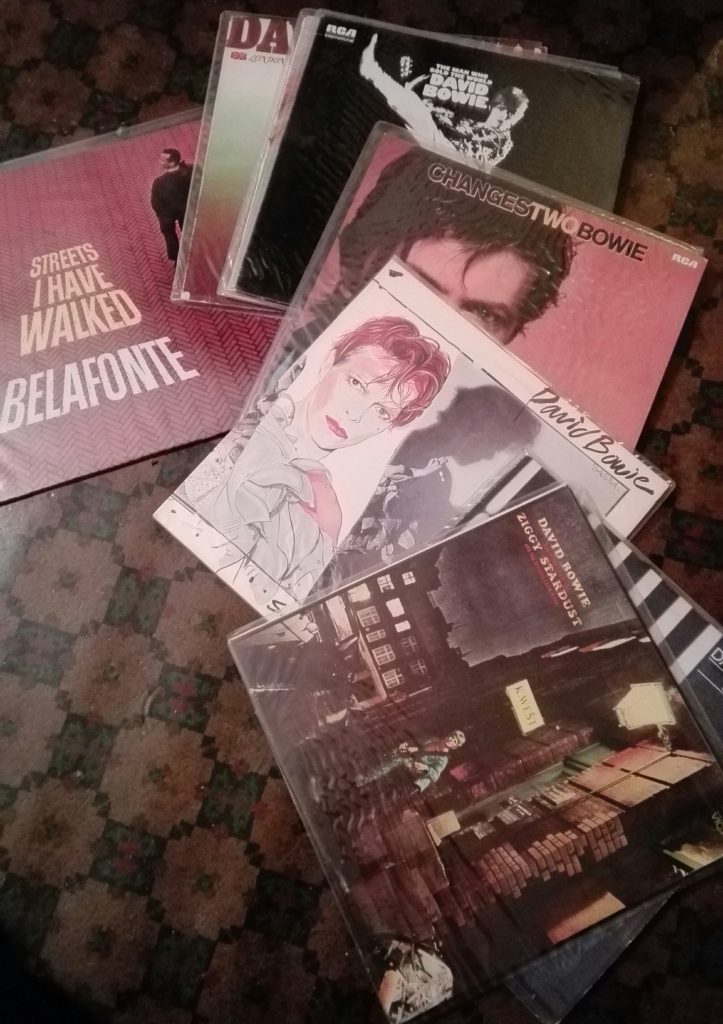 B:
B er en god bokstav i platesamlingsammenheng. En av de beste. The Band, The Beatles, Black Sabbath, Eric Burdon & War, David Bowie, Kate Bush …Men … hvor er Heroes av David Bowie? Har jeg ikke Heroes? Det går ikke an! Planen om å ikke kjøpe noe nytt før jeg hadde hørt gjennom alt jeg hadde fra før, røyk allerede her. Slike gapende hull kan man ikke ha stående i stua si. Krisetiltak måtte innføres.
Jammen er det langt til W.
C:
Det er slitsomt å høre så mange plater med The Clash på rad.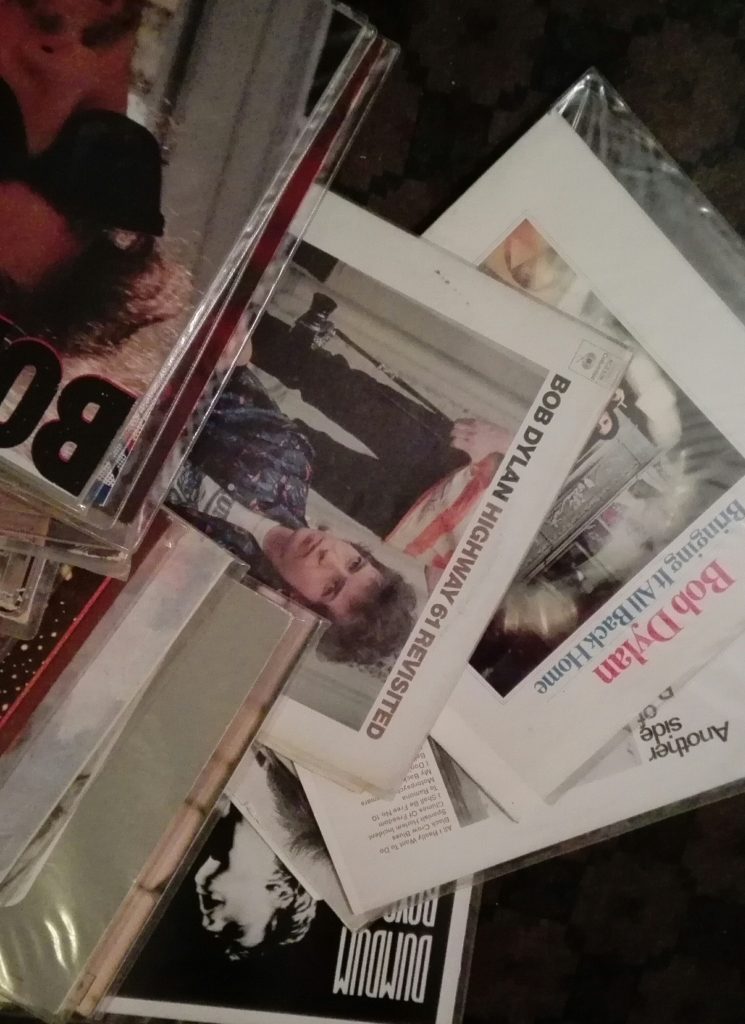 D:
Deep Purple er mye bedre enn jeg husket. Faktisk digger jeg Deep Purple. Fireball er gull og headbanging til seige gitarriff er tidløst.

Riktignok har The Doors gitt ut noen drivende gode låter, men du verden så mye dritt de har lagd. Det var pinefullt å høre gjennom alt sammen.

Jeg har 28 Dylan-skiver, kan det være er den artisten jeg har flest LP-plater av?
Dette tar lang tid. Hvor lenge er det til jeg kommer til W nå, tro?
J:
Det satt langt inne, men det var en befrielse å innse at jeg faktisk ikke trenger å beholde alle platene til Jackson 5, selv om de var supre på sitt beste og selv om jeg i oppveksten elsket alt Michael Jackson hadde vært i nærheten av.

L:
Cyndi Lauper, The Goonies R Good Enough var den første vinylen jeg anskaffet meg. Jeg hører aldri på den, den må ut. Neeeei! Den blir! Nostalgien vant over fornuften. Svake menneske.
Og sånn fortsetter det. Gjennom Motorpsycho, Ozric Tentacles, Pearl Jam, Pink Floyd og Lou Reed …
Nå er jeg vel snart ved W. Tom Waits, jeg savner deg!
Deprecated: ltrim(): Passing null to parameter #1 ($string) of type string is deprecated in /customers/5/c/3/rotrock.no/httpd.www/wp-includes/wp-db.php on line 3030